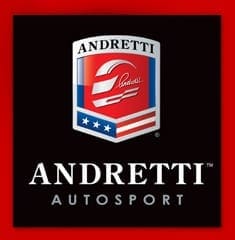 Cosmichrome is the stunning chrome finish that one sees on the nose cones of all Andretti Autosport race cars. Cosmichrome replaced a competing product that wasn't able to meet the rigorous environment of racing. Andretti Autosport needed a chrome product that would endure heat, sun, rain, and debris on their cars while flying around the race track at speeds over 200 mph.
The expert painters at Andretti Autosport spray the Cosmichrome coating themselves with their Cosmichrome system featuring our patented e-Gun™.
Cosmichrome is the only spray chrome product that handles the extreme environment of the Izod Indycar Series.
Andretti Autosport fields multiple entries in the IZOD IndyCar Series. As the only INDYCAR team competing in all four steps of the Mazda Road to Indy driver development system, Andretti Autosport also campaigns multiple cars in Firestone Indy Lights, the Pro Mazda Championship and in the USF2000 National Championship.
Based in Indianapolis, Ind. and led by racing legend Michael Andretti, Andretti Autosport boasts four IZOD IndyCar Series championships (2004, 2005, 2007 and 2012), two Firestone Indy Lights titles (2008 and 2009), one USF2000 championship (2010) and has won the Indianapolis 500 twice (2005 and 2007). As a brand, Andretti Autosport was born in November 2009 following the completion of a transaction between the former shareholders of Andretti Green Racing. Andretti and his former business partners announced in August 2009 their decision to split off their racing and promotions businesses into two separate companies.